The oldest surviving map of the world is incised on a clay tablet and dates back to at least the 5th century BC. Since then, cartographers have helped chart voyages, discover new lands, change the world, and helped millions of lost people find their way home. Adding a map to your website is a great way to help your visitors visualize and remember your location. And adding an interactive map for your site has never been easier, thanks to POWr Map. It's the best way to instantly share your location with your visitors. To begin with, just enter the address of where you'd like your first map pin to appear. With the free version of the plugin, you can add up to 5 different locations on your map (upgrade to Premium for 20, Pro for 100, and Business for 500.)
Enter a title and description for each pin, and they will appear like a key in the locations panel to the left of your map. You can include any information you'd like – phone numbers, addresses, or even links another page or site.
POWr Map will automatically center on the very first location you list, unless of course you choose to display the location nearest to your visitors, which can be done in the upgraded version. Choose roadmap, satellite or a hybrid view, ten select from nine pre-made design styles to fit your needs.
You can then edit the font, background color, and size of your map so that it complements the rest of your website. Use any Google Font, and even change the thickness of your border to frame your map against the rest of the page.
Once you've created the map you want, just add it to your site. You can always edit your plugin right from your live site by clicking on the Settings Icon in the top right corner. That way, it's quick and easy to add new locations or update information. Maps are inherently versatile. Obviously they can help visitors to find your store or location, or easily see where your products are sold. But there are tons of other creative ways that POWr users have used maps to enhance their sites and store fronts.
Tried and true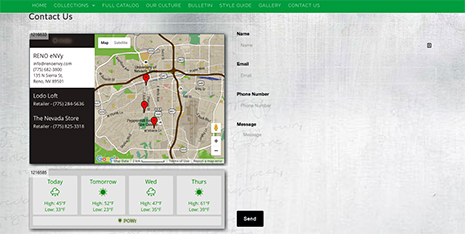 One easy and helpful way to use a map plugin is to embed one right onto your Contact page. Including a map next to your address and phone number will ensure your visitors can easily check your location and find you in no time. And if you want customers to be totally prepared, you can embed POWr Weather right underneath your map and no one get's left out in the rain.
Get some perspective
Sometimes you need to actually see something in relation to its surroundings before you can get your bearings. Displaying a lot of different locations on a zoomed-out map is a great way to give people a better idea of the places you're talking about. Where Nature Roams is a website that lists places of natural beauty around the world. For each region, they include photos of all the landmarks and map them below. This is great for those trying to plan trips or make itineraries.
Use your extra space
The locations panel can be a very useful part of your map plugin. It works as a key, but the descriptions can include extra information your visitors might find interesting. On one website about Nelson Mandela made in conjunction with a National History Day contest on Weebly, a POWr Map featured facts and data from Apartheid. The map visually explained racial demographics in areas across South Africa.
Show off your reach
If you're looking to provide social proof for your brand or business, consider mapping out the retailers who carry your product, or places you've done business. You can zoom out POWr Map as far as you'd like, so you can easily showcase projects all around the world, like Atlantic Bridge Aviation did on its website.
Go custom
The devil's in the detail. You can change the color of your pin with any POWr Map, but an upgraded version of the map allows you to replace your pins with a custom image. In seconds your logo or photograph can be used to point out any location in the world. This is a great way to update your location if you move around regularly, like a food truck or travel blogger. Do you use POWr Map? Please let us know where in the world you are in the comments, so we can add you to our map of worldwide users!