Every 30 seconds, eCommerce generates $1.2 million in revenue. That's nearly $3.5 billion flowing through online retailers on any given day, roughly equivalent to the GDP of Sierra Leone. And all research indicates that eCommerce will continue to grow, with some estimating that eCommerce in the U.S. alone will grow to almost $500 billion by 2018. In the U.S., more than 60% of people have bought at least one product online, with the average American spending nearly $1,700 online this year. And each year, the balance shifts further towards mobile shopping. Last year, sales on mobile devices in the US came to $104 billion – a 38% increase over 2014. It's estimated that mobile eCommerce will account for 30% of global online sales by 2018, up from just 15% in 2013. More than ever before, it's vital for merchants to have a single, unified solution for selling online, regardless of how shoppers make their purchase. Luckily, POWr eCommerce is an easy-to-use, fully responsive, and thoroughly versatile solution. It's a hassle-free way to sell anything online, whether you offer a single product, or a store's-worth of goods and options. And like all POWr Plugins, there's no code to deal with, and no complicated setup process.
The first step is to connect a functional PayPal account. All payments will be made to you through this account, so it's important to set this up immediately. And if you plan to sell recurring subscriptions, you'll need to make sure you have a PayPal Business account. Once you've connected to PayPal, you can add different products, images, text descriptions, and product options, all right inside the POWr Editor. It's important to include well written product descriptions both for your shoppers and for SEO – follow these simple steps from Kissmetrics for flawless copy. And make sure to include high quality images from different angles to give shoppers a complete perspective. Finally, use the Options menu to add product specific options like size, color, material, or anything else that customers will need to select before check-out.
POWr eCommerce also allows you to sell digital downloads, or goods that can be delivered electronically. So you can sell songs, images, documents, or even software, with files delivered to your customer automatically via email. You can even create discount codes to sell free or discounted products for short-term sales and promotions. (Check out this piece on Countdown Timers for flash sale ideas, and other inspiration.) You can also set up recurring subscriptions using POWr eCommerce. Give your returning customers a great deal by offering them a weekly, monthly or quarterly subscription. Just set up a price and time duration for your subscription plan, and let POWr take care of the rest.
POWr eCommerce is a thoroughly versatile and extremely flexible selling tool. There's no end to how you can use this plugin in your own online store. Here are some examples of real people selling successfully with POWr.
Tiger Naturals is an artisan organic soap company, which donates a portion of all earnings to saving an endangered species. They manage their online store with POWr, and sell both individual products and "sudscriptions" – monthly soap delivery, where shoppers are billed on a recurring monthly basis.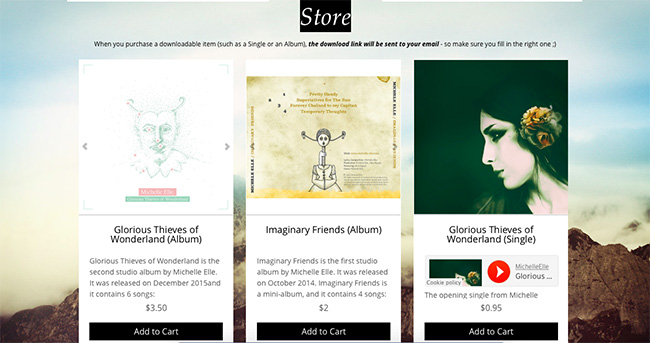 Musician Michelle Elle sells digital downloads of her albums and singles using POWr eCommerce. And let her listeners preview before purchase, she's embedded a SoundCloud widget into the product description with links to the appropriate track.
Run an online garage sale, like this industrious 17-year-old, who includes a shop on her personal website. Just snap some photos, be honest and fair when it comes pricing, and make some easy extra cash! Check out these best practices for selling anything online.. Do you use POWr eCommerce? Drop us a link in the comments! We love shopping and promoting POWr-driven stores!