Social media has become a key part of any marketing campaign. Pictures, videos, slogans, ads – any and all of these can easily be shared with a click of a button through any of the different social networks, and instantly shown to thousands of followers. But what a lot of businesses neglect is the last step: finding a way to show off social proof - i.e. how many people actually "like" them - on a website. Many companies use social media because it can help boost website traffic, but they often forget that the opposite is also true: You can use your website to get more followers, likes, and shares. There are a lot of different ways to do this. You can include social media icons onto your page that link directly to your various accounts. You can embed individual Facebook posts directly onto your page (check out these excellent examples of creative ways to use them). Or, you can go a step further and embed your social feed directly onto your website. That way, your website can also reap the benefits of all the hard work you put into your social campaigns. POWr Social Feed is a straightforward way to include any number of social streams on your website. It's mobile-responsive and works seamlessly with a long list of social networks – from Facebook, Instagram, and Pinterest to Vine, Vimeo, and YouTube.
Simply go to the plugin, choose the network you're interested in, enter the account or hashtag you wish to follow and the feed will magically appear. POWr Social Feed allows you to choose how many posts you want to show, and also lets you customize the appearance so you can pick the size, color, and layout of your stream.
There are a lot of valuable ways to make use of your social media accounts, here are six different ways POWr users are letting their social feeds work for them. Keep Content Fresh
Instagram has become a huge outlet for marketing campaigns – it puts visual content first, and is less cluttered than other social media. This makes it hugely popular for any brand with strong, attractive images. If you're in the habit of uploading attractive pictures of your product to Instagram, consider embedding your grams onto your website to create an easy image gallery on your page. The soapmakers at Revive Your Bath used POWr Social Feed to include an Instagram feed featuring their beautiful, artisan soaps right on their homepage. This saves you the trouble of uploading your pictures twice – and also eliminates the need to update your website's content, as the plugin will automatically refresh as new posts go live.
If you want to feature your images more prominently, you can create a separate photo page on your website. Simply embed an image-heavy social feed onto its own page, like Baton Rouge Music Studios. Just make sure that you adjust the plugin width and choose to display enough images so that the page looks well put together and complete. Show Off Your Social Skills
If one of your goals is to increase the number of views and followers you have on social media, consider including a specific section on your website or homepage dedicated to finding you on social media. Populi, a student- and faculty-driven magazine at Ole Miss , includes a section on their homepage inviting visitors to read their posts on social media. They include their Facebook and Twitter feeds side-by-side, letting visitors sample their content before navigating to their full social accounts All Your Posts in One Place
People use different social media for different things. And while there is some overlap, people quite often share completely different content on different mediums. The premium version of POWr Social Feed allows you to include up to five different feeds, from different networks, all in the same gallery. The Equestrian Club at St. Vincent's College uses their social stream plugin to show off posts from Facebook and Instagram in one place, reducing visual clutter and making the most of their online real estate. You can even adjust the priority of each feed to fine tune your content balance. Keep Them In The Know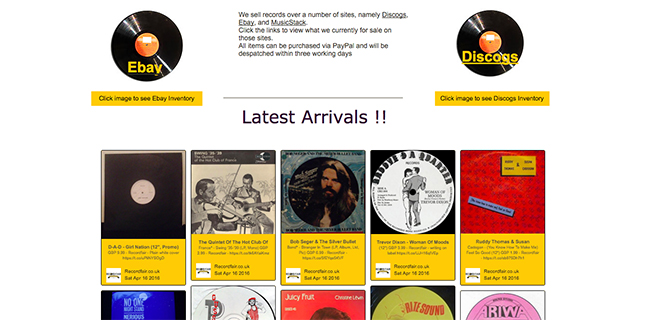 Many stores and restaurants now rely on social media to make customers aware of new specials, offers, or products. It's really fast and unbelievably easy. The online record store Record Fair posts pictures and details of new albums on Facebook. By embedding their Facebook page into their homepage, visitors see a complete, up-to-date collection of the most recent arrivals as soon as they land on the site. It displays the information in an attractive, Pinterest-style gallery, and saves the webmaster the trouble from uploading each new album twice. Feature Your Users
Now that every event, party, company, campaign and adorable pet has its own hashtag, it's easier than ever to compile related posts in one place. POWr Social Feed lets you display posts based on handles or hashtags. This is especially useful when you'd like to highlight what customers are saying about you. It's also a great way to get free, honest content from your real-life users. Embedding posts with a common hashtag is a great tool to showcase user-generated content, particularly on event websites. Suggest a hashtag for guests to use, like newlyweds Dianis and Edgar did, then display all of the different posts and perspectives in one place. Use Others' Social Media To Inform
POWr Social Feed can stream the posts of any public page or person. This means you can use our social widget to share information from accounts other than your own. A website for students at the University of Michigan, Flint, has a section dedicated to News Feeds. On each page, they've embedded relevant Daily Motion feeds – for example, their Entertainment Feed features videos posted by Entertainment Tonight and Fan Reviews, and their Music Feed includes videos shared by different music channels. This allows them to display a curated selection of relevant and appropriate content from respected sources, without raising a finger. These are just a few of the many, many ways you can use POWr Social Feed to leverage what's already happening in the social sphere. Do you use POWr Social Feed on your page? Please let us know how in the comments section.