Question
Can I connect my POWr Forms to MailChimp so form submissions are automatically added to MailChimp?
Answer
Yes! This is a Premium Feature on all POWr Forms. Only the Owner of a Mailchimp account can connect a Mailchimp list to a POWr app. If your status is something other than Owner, such as Manager, you will need to use the owner's Mailchimp login to connect a list.
Connect to MailChimp
First, you'll need to connect your POWr Form to a MailChimp List. Here's how:
Open the POWr Editor (App Settings in Wix)


In the CONNECT section, click MAILCHIMP


In the pop-up, sign in to your MailChimp account, and select a list


Click Done to complete the connection


You will now see the name of your MailChimp List displayed under the MAILCHIMP section.


Save your plugin!
Connect MailChimp MERGE Tags
Next, you'll need to connect different MailChimp MERGE Tags to your POWr Form. You need an Email element in your Form, too.
Go to your MailChimp Account, and click on Lists.)


Click on the list you'd like to connect


Open the Settings menu.


Click on List fields and *| MERGE |* Tags


You'll see a lists of MERGE tags associated with each field in your MailChimp list.


Add the corresponding MERGE tags from MailChimp into the MERGE tag section in each element of your POWr Form.


The Email elements have a simple ON/OFF toggle to add email addresses to MailChimp.


Save your plugin!
Note: If certain MERGE tags are set as required in your MailChimp list, make sure make those fields required in your POWr Form as well. Otherwise, new entries will not appear in your MailChimp list.
Steps 1 - 5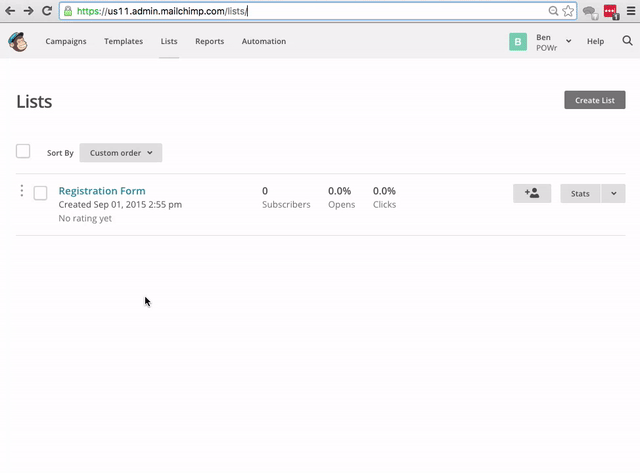 Steps 6 - 7